Looking for K REND in Shrewsbury?
Specialist K rend & Thin coat silicone coloured Render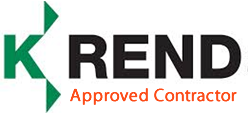 Mark Konieczny, Founder and Company Director of Mr Smooth Plastering Ltd specialises in all types of rendering including external wall insulation systems.
Mark has over 10 years experience in all kinds of render systems, focusing mainly on domestic properties ranging from old properties, self build projects, new build sites and commercial clients.
With 6 + years experince of using K Rend products, the client demand has increased which has resulted in the investment of two render application machines. This has enabled the team to cater for both large scale projects to small house extensions provding a quality, seamless finish every time.
Boasting a strong portfolio and a company built upon recommendations, Mark has meticulous attention to detail and passion for his work. The perfection shown in his work is a credit to his company, clearly showing the quality and standards of work.
With a small, fully trained team, Mr Smooth Plastering Ltd can promise high quality render systems with an efficient, professional approach.
K rend approved Shrewsbury

External rendering is not only a good way to cover over bad backgrounds, but it also adds insulation values to your property, not only transforming the look of your home with a crisp colour render finish it Is also seen as an investment, which will also potentially add value to your home.
"Adding value to your home "
Specialising in modern render systems we can offer all types of high performing quality systems, with knowledge And a vast portfolio we are confident that we can create the perfect finish that will last, wheather it be new build or renovation work we can advise on suitable systems which are available to you. Experienced in products such as K Rend , Baumit & EWIPRO we can offer a wide range of products to suit your specifications.
"We only use the highest quality products for your home"
The K Rend silicone range incorporates silicone water repellents as an integral part of the cement based render system. This silicone technology imparts a high degree of water repellency to the renuder surface whilst allowing water vapour to pass through the render allowing the substrate to breathe.
Benefits include:
• Water Repellent
• Low Maintenance
• Allows Structure To Breathe
• Natural Looking Finish
• Extensive colour range
I can visit on site with brochures and with colours & information which we can talk through to choose the correct render for your property in more depth.
Details of the product can be found at www.Krend.co.uk
I Can offer both Machine sprayed & Hand applied render finishes.
Can be used on the following;
Extensions

Old Tired Existing Render

Garden Walls

Render boards
swimming pool rooms
External Wall Insulation EWI
shop fronts / business premises / commercial

New Builds

Renovations
Poor Brickwork/ painted bricks

Feature Walls 

Domestic homeowners & Commercial welcome
Please get in touch to find out more about the products And I can happily help & advise you on the products, and the advantages of choosing this modern render system for your property.
Examples of my previous K rend Projects via the slideshow; portfolio & references are also available on request.
[acx_slideshow name="K rend" width="500px" height="500px"]